I would like to attach an FM radio to audio-in on the motostation. The radio should be mounted on the handle bar and have the size of a cigaret pack. It should have a display and buttons for on/off, volume and channel selection. It does not need to be ruggedized. Albrecht used to have a Tectalk FM/PMR radio but that is not available anymore.

Anyone knowing of a suitable radio? What are you using, if any?

On my old BMW R850RT I had a Sony autoradio in the glove compartment and a remote control on the handle bar but my new F650GS does not have that space.
I've been looking for a good FM RDS radio for the bike for a long time, haven't found one yet, but I did buy
this
one, its a cheap radio that says its bike friendly, no RDS though, I haven't installed it yet,I wont use the speakers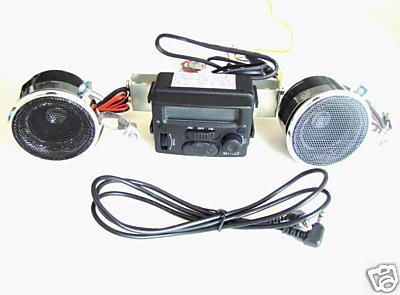 _________________
--------------------------------------------------------------------------------
BMW R1200GSA -08, Schuberth R1 with Bluesonic, Garmin Zumo 660 not working with Bluesonic

Thanks for the tip. I just ordered one for myself, - after going through the onerous procedure of registrering with ePal and eBay. Should get it within a month or so. Price 215 dkr incl. shipment, excl. VAT and customs, I suppose. Specs are good, just what I need. Great if it works, limited damage if it doesn't. I would be interested in your experience once you try it out.
Usually it slips through customs so you don't have to pay VAT and customs, but you never know.
_________________
--------------------------------------------------------------------------------
BMW R1200GSA -08, Schuberth R1 with Bluesonic, Garmin Zumo 660 not working with Bluesonic

I got the little Chinese FM radio rather quickly. Installed it on the handle bar with a RAM mount so I can easily remove it. It seems to work fine so far although I have not actually been riding with it yet. It is certainly worth the 215 Dkr. The frequency shown on the display may drift a little but sound is not affected as far as I can tell. Just for fun I also installed the loud speakers on the mirror arms. Will take them out eventually.

Functions that would have made the FM radio even more useful are auto tuning and memory for more than one station. The AM capability of the radio is rather useless, at least in my vicinity.

I took your good advice on powering and is now powering my devices straight from the battery through a fuse and an on/off contact. That way the devices stay on through short stops such as refueling. The radio orange wire (memory) has permanent 12V.

Currently installed are the Zumo 550 and the FM radio. I am using a simple wired headset while waiting for the Bluesonic and Motostation. The sound level is quite good. I hope the same will be true with Bluesonic.
Good to hear! I have not installed my fm radio yet, but Im installing my new Zumo 660 and Motostation right know, I'll post some more information later on.
_________________
--------------------------------------------------------------------------------
BMW R1200GSA -08, Schuberth R1 with Bluesonic, Garmin Zumo 660 not working with Bluesonic

Incidentally, a cute little detail with the radio is its audio-in for attachment of e.g. an MP3 player. I connected the Zumo 550 audio-out to the radio audio-in and could then hear Zumo nav commands and music through the radio. This audio-in on the radio could be one way to get stereo music into the Bluesonic helmet. The radio is not well suited for wet whether. In that case I will either take it off or slip a plastic bag over the radio and its RAM mount.
Yes that is a good idea to get both fm radio and music/nav from gps, the problem with 660 is that it wont connect (pair) to the Bluesonic headset, so you can not use it like on the 550, where you pair your phone to the HandsFree (HF) profile on zumo and your Bluesonic to the HeadSet (HS) profile on the zumo, that way you can see who is calling and make calls through the zumo.
_________________
--------------------------------------------------------------------------------
BMW R1200GSA -08, Schuberth R1 with Bluesonic, Garmin Zumo 660 not working with Bluesonic



Similar topics
---
Permissions in this forum:
You
cannot
reply to topics in this forum